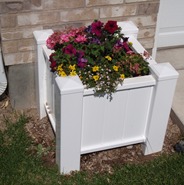 Welcome!

At EZ Gates & Gardens, we're dedicated to helping you create the ultimate low maintenance organic garden, or if you need to replace those old gates that no longer function properly, our seamless gate system may be the answer for you.

At EZ Gates & Gardens we offer vinyl gates that have no steel reinforcement, wires, cables, bolts, cross braces, nuts, rivets or wood. Our seaming process creates a gate that when complete, is one solid piece of vinyl that will never rack or change dimension.

Our garden planters are fabricated with a superior design that allows you to sit on the side of the planter while working and will never deteriorate, rot, splinter or breakdown, which eventually draws unwanted pests and bugs, and as the tragedy of wood goes, will require replacement every so often.

Our commercial grade vinyl products are built to last a lifetime and best of all are maintenance free. Purchase one time and enjoy for decades to come. All planters and gates are hand crafted and built to your specific size requirements. If you live in or around the greater Salt Lake City area, or are visiting our city, please give us a call and let us show you the advantages of vinyl raised-beds the EZ Gardens way..!..or how to get rid of those old gates today!